Columbia Health Support to Students During the COVID-19 Pandemic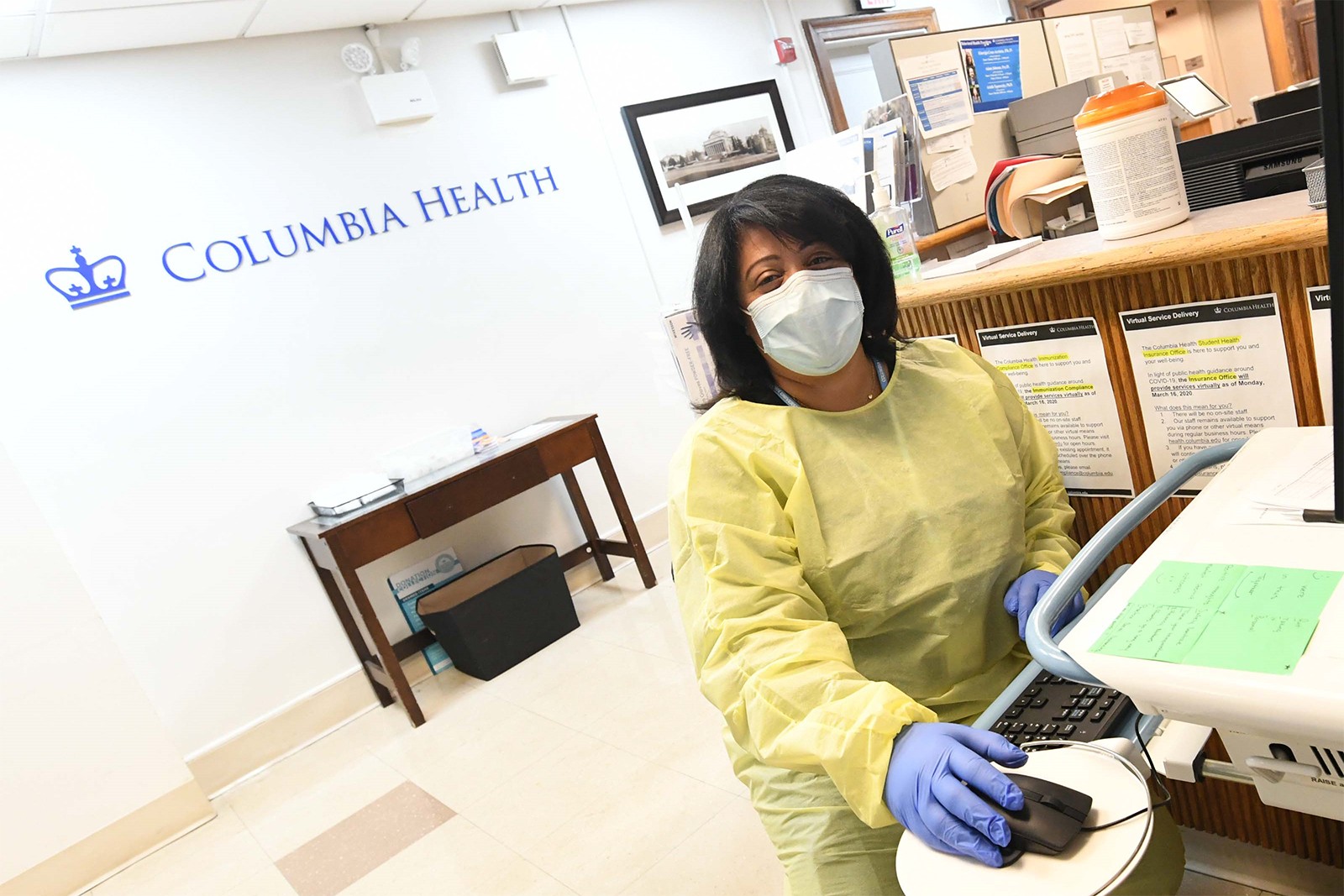 In March 2020, as New York City faced stay-at-home orders and the University adjusted operations accordingly, Columbia Health kept services available for students without missing a beat. In the matter of one weekend, the organization expanded telephone support services and introduced virtual Zoom Health services for all operating units.
Students who left New York for another state or country were able to continue to access care. Medical Services and Counseling and Psychological Services (CPS) transitioned all scheduled and future appointments to telehealth appointments. CPS also began offering a number of virtual support spaces focused on addressing pandemic-related issues as well as a variety of concerns including body positivity, mindfulness, procrastination, gender-identity, and more. Alice! Health Promotion (Alice!) and Sexual Violence Response (SVR) transitioned health education and advocacy programs respectively to virtual formats. And Disability Services ramped up delivery of accommodations to support students impacted by the shift to online learning.
In light of the pandemic, Columbia Health also implemented a Graduate Health Insurance Transition Option. This one-time, limited option enabled graduates to purchase coverage with the benefits structure of the current student health insurance plan to facilitate their transition to another plan. 
Additionally, in dedication to its crucial public health work, Columbia Health continued its naloxone training program virtually, mailing naloxone kits to those who complete the training. As opioid abuse continues to be a problem in the US, the program was expanded to include alumni to make an impact in the various communities Columbia affiliates find themselves in.
Increased Service and New Opportunities
The shift necessitated by COVID-19 led to interesting results. Throughout the stay-at-home order from March 2020 through May 2020, and then through the remainder of the fiscal year, the organization was able to meet comparable or increased service demand, while exploring new opportunities afforded by online platforms.
Medical Services
Medical Services is unmistakably a critical service during a normal semester, and became even more essential with the advent of COVID-19. Medical Services remained open during this period, accommodating hundreds of in-person visits. Additionally, the unit was able to convert to telehealth with all clinicians trained on HIPAA-protected Zoom and provided thousands of telehealth visits during this period. A total of 4,262 visits to Medical Services were supported from March through June.
Counseling and Psychological Services
CPS provided 8920total visits during this time. 1,896 individual students utilized one-to-one telehealth sessions, including 30 percent being students who were accessing CPS' care for the first time.
Disability Services
Disability Services saw an increase in student registration for academic accommodations, given the different needs and challenges presented by the move to distance learning. The total number of students registered with Disability Services during academic year 2019-20 was over 3,000. New students seeking accommodations for the spring term once classes move online increased by 364.
The other units continued to provide ongoing community support as well.
Alice! Health Promotion
Alice! Health Promotion (Alice!) piloted wellness coaching to complement support provided by CPS. Despite the rapid transition to virtual delivery of services, Alice! more than doubled the number of individual health education sessions with the inclusion of wellness coaching as compared to the same time period last academic year.
Gay Health Advocacy Project
Gay Health Advocacy Project (GHAP) conducted over 206 visits to support students on PrEP and those seeking tobacco cessations services. GHAP transitioned the HIV Positive Support Group to a virtual model and saw more consistent participation as compared to the variable rates of participation during fall 2020.
Sexual Violence Response
SVR continued its programming virtually, offering 48 programs with 4,800 attendees (including 419 attendees at eight SAAM events). The SVR team continued to manage new survivor cases remotely (with no decrease in volume) and to provide remote Temporary Order of Protection.
Columbia Health Leadership Role in the University's COVID-19 Pandemic Response
Columbia Health has played a critical role in supporting Columbia University from the onset of the pandemic, from advising the University's Emergency Management Operations Team and staffing the COVID-19 hotline (212-854-9355), to providing subject matter expertise to communications and coordinating care with other campus services for students who have tested positive.
Currently, Columbia Health is managing the Morningside campus COVID-19 Testing Center at Roone Arledge Auditorium at Lerner Hall and the University's Contact Tracing Program. To support the Columbia Community Health Compact, Alice! conducts all Keeping Columbia Healthy training for Student Ambassadors.