The Bubble at Baker Transforms into COVID-19 Field Hospital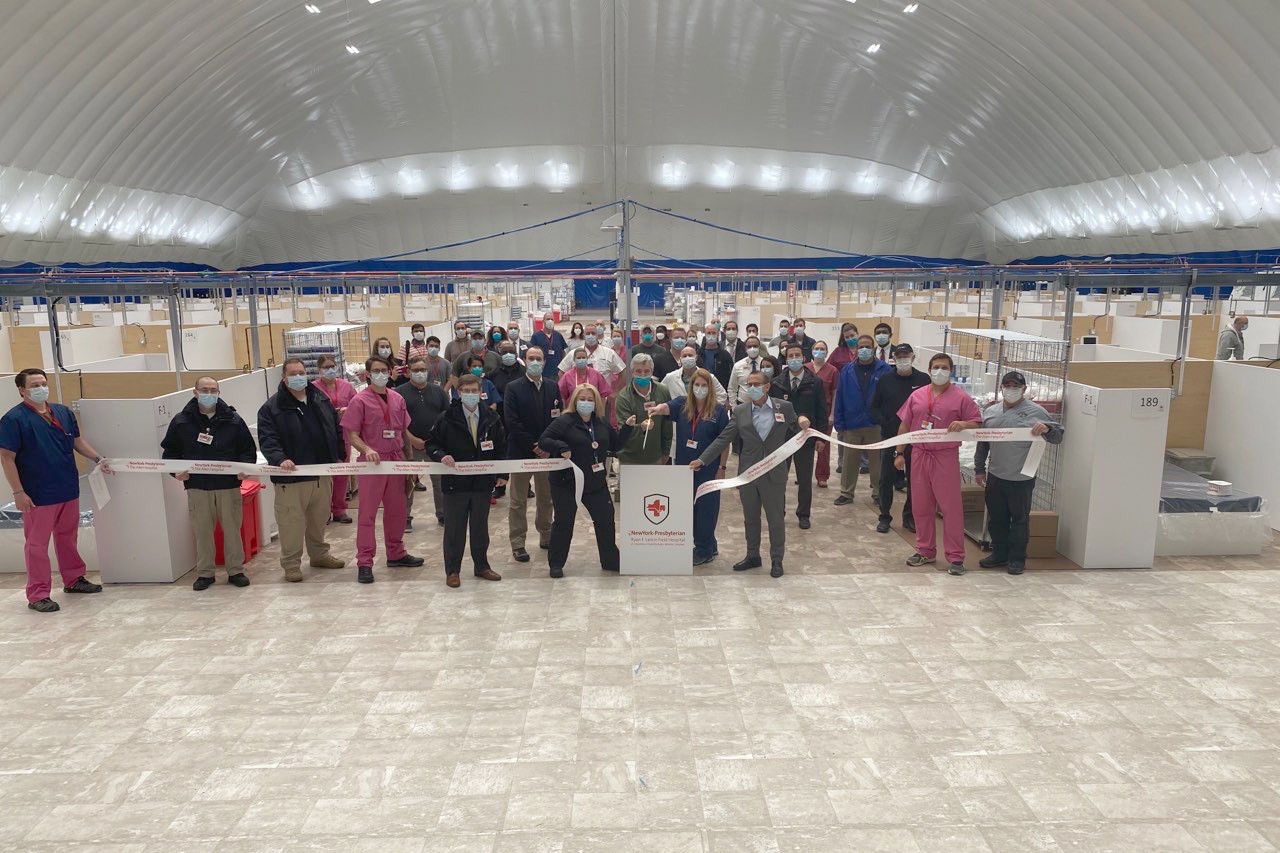 At the beginning of 2020, the Bubble at Baker was simply an indoor practice facility for Columbia Athletics teams during the winter months. A few months later, the facility would be transformed into a temporary field hospital capable of treating up to 288 patients battling COVID-19.
In light of the pandemic, Columbia University Irving Medical Center (CUIMC) and NewYork-Presbyterian (NYP) partnered with Columbia and government officials to convert the heated, air-supported dome at Columbia's Baker Athletics Complex into a temporary field hospital. The conversion of the Bubble, which covers the Rocco B. Commisso Soccer Stadium, was intended to expand capacity and alleviate demand on the main NYP/CUIMC hospitals.
In early April, workers began mobilizing to install special flooring, electrical power, Internet cable and additional air conditioning and plumbing at the 92,000 square-foot facility. Just ten days later, the transition was complete and able to support medical staff and required medical equipment. 
"Creating a medical treatment facility inside a dome normally used by our varsity athletes is a first for Columbia," said Peter Pilling, Campbell Family Director of Intercollegiate Athletics. "Everyone has a part to play in this crisis, and we are proud to do what we can to support the health care workers and volunteers who are on the front lines, treating COVID-19 patients."
The facility was named Ryan Larkin Field Hospital in honor of decorated U.S. Navy Seal Ryan F. Larkin (1987-2017), who served in Iraq and Afghanistan. It was staffed by former military personnel, including physicians, nurses and medics, and others who provide transport and other needed services, in conjunction with NYP leadership and front-line staff. 
For more information about research, medical guidance, educational support and other neighborhood efforts, visit Columbia University's COVID-19 website.