Members of the Columbia Community Save Lives with Naloxone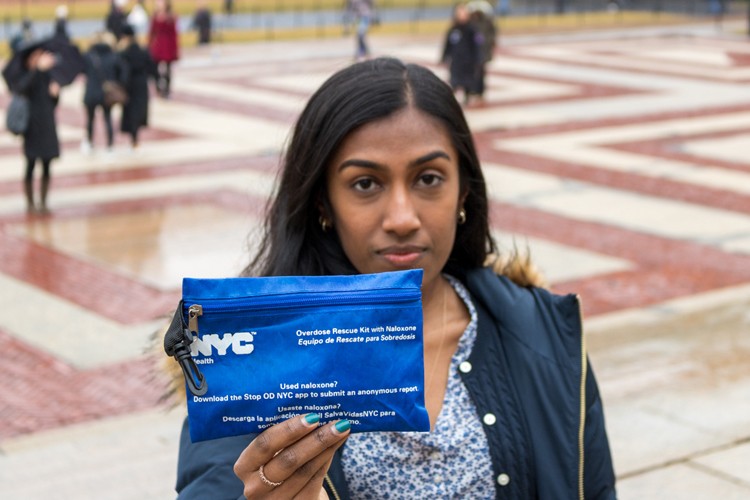 Since first announced in May 2019, Columbia University's naloxone training program has trained nearly 1,300 students, employees and community members to recognize signs of opioid overdose and administer lifesaving medication.
The program is part of a multi-disciplinary initiative between Columbia Health, Columbia Mailman School of Public Health, and the Columbia School of General Studies. This evidence-based effort is informed by a research grant led by Rachel Shelton, ScD, MPH, Assistant Professor of Sociomedical Sciences at Columbia University Mailman School of Public Health and Lisa Rosen-Metsch, Dean of Columbia School of General Studies, and funded by Columbia's Irving Institute for Clinical and Translational Research. The training program also aligns with objective 11 in the Columbia-JED Strategic Plan to ensure substance use policies and protocols best support students. 
As part of the initiative, Columbia Health became a Registered Opioid Overdose Prevention Program, recognized by New York City and State Departments of Health. In addition to participating in the training itself, several Columbia students also serve on the project team as part of the grant committee, training facilitators, acting as liaisons to student groups, and assisting with research. 
Strong Participation from Across Columbia Community
Response to training opportunities within the Columbia community has been strong. Participants include Columbia Health, Lerner Hall Operations, Residential Life, and Undergraduate Student Life. Student trainees include NSOP Orientation Leaders, Resident Advisers (CC/SEAS/GS), and GS Peer Advisors. Social Work alumni, athletics groups, and graduate students have participated in trainings as well. Ongoing trainings are held for new Public Safety sergeants, Columbia Health peer leaders, student organizations, undergraduate students, and student council members. The training also fulfills the Wellness requirement for Fraternity and Sorority Alpha standards at Columbia.
Columbia Students and Staff Save Lives
The NYC government estimates that three New Yorkers die from a drug overdose every day.
"We do this training —  not just for our campus community —  but also for our greater New York community. This program puts naloxone closer to those who might need it," said Michael McNeil, Columbia Health Chief of Administration and Opioid Overdose Prevention Program Director.
In six separate instances, students, Public Safety sergeants, and other staff have had the opportunity to use their opioid overdose prevention training and save a life.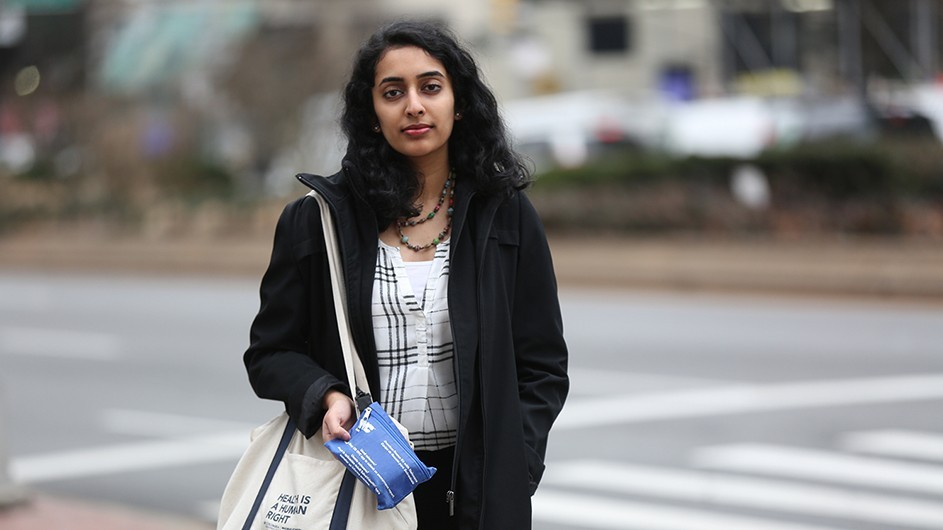 In one incident, Sonalee Rau, a master's student in health policy and management at the Mailman School, was about to enter the Metro-North train station at 125th Street in East Harlem when she saw a small group surrounding a man lying unconscious on the sidewalk. The man had overdosed. Sonalee grabbed the naloxone kit hooked to her purse and administered the Narcan nasal spray while a bystander called 911. The man began to come to immediately. When the FDNY arrived they thanked her for giving him naloxone.
In another incident, Public Safety Sergeant Lance Stills was dispatched to an individual who was suspected to have overdosed. Upon arrival to the scene, Sgt. Stills assessed the patient's condition, who was unconscious and having difficulty breathing, and administered Narcan prior to EMS's arrival. Sgt. Stills' quick response to the scene and his decision to administer treatment undoubtedly saved the individual's life. 
Columbia Officials Present Key Findings at White House
As one of the few institutions in the nation to have designed and implemented a comprehensive, campus-wide naloxone training program — Columbia was invited to the White House on November 13, 2019 to speak at the Addressing Overdose and Response at Colleges and Universities roundtable hosted by The Office of National Drug Control Policy (ONDCP). Participants included college and university officials, harm-reduction advocates, national higher education associations, and other federal officials.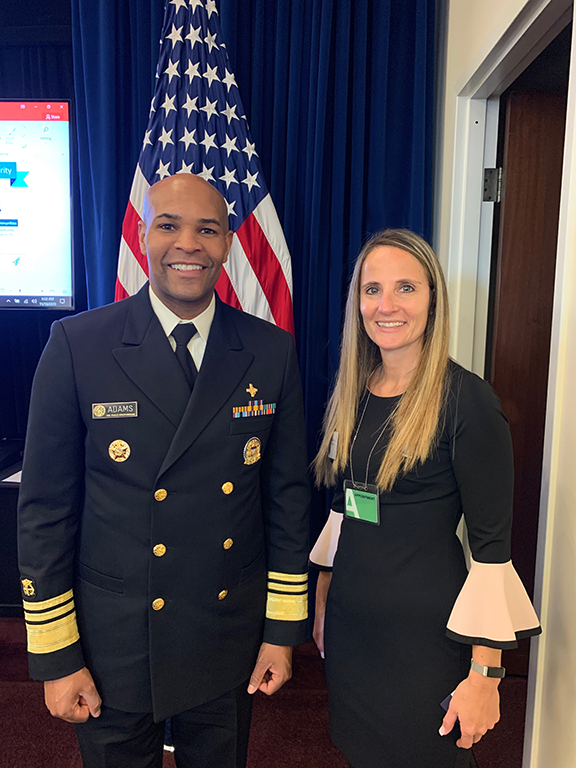 The Naloxone Availability/Access Models on Campuses panel featured Columbia Health Associate Vice President and Medical Director, Melanie Bernitz, MD, MPH, along with representatives from the University of Texas and Louisiana Board of Regents. ONDCP Assistant Director for the National Opioids and Synthetics Coordination Group, Kemp Chester, moderated the discussion.
Dr. Bernitz shared how Columbia's program model leverages the power of individually trained community members. Given the smaller physical campus size but highly mobile population, students and staff move beyond the borders of the University and New York City on a daily basis, allowing naloxone to not only be available within the campus gates but in the broader community. She noted that implementing naloxone trainings for the campus community has provided Columbia with the opportunity to address the dearth of research in this setting and contribute crucial learnings to the field of college health.
Columbia Health Chief of Administration Michael McNeil, EdD, CHES, FACHA, participated in the Implementing an Overdose Plan on Campus panel, alongside an official from Kennesaw State University and moderated by Chris McCaghren, EdD, deputy assistant secretary for higher education programs of the Department of Education.
Dr. McNeil reported that in the first three months, Columbia exceeded the training target set for the entire grant year. The accelerated rate at which the community was trained is in part due to the plan's emphasis on establishing partnerships and coalitions with stakeholders at every level, from students to high-ranking University officials and internal departments. With unprecedented interest from the campus community, the challenge has been to balance demand for trainings with qualified facilitators and supplies of naloxone kits from the Department of Health.
A Commitment to Continuing the Work
Recognizing the potential impact and public health benefit of this program within the campus community, New York City at large, and nationally, Columbia Health and its partners remain committed to this important work and are in continued discussion with the ONDCP to advance the conversation about opioid overdose and college health.
Participate in a Naloxone Training
Want to prevent an opioid-related death?  Request naloxone training.